Need for Speed Most Wanted - KaOs
Скачать Роман Даны Кнайтстоун: Смерть и предательство в Румынии. Коллекционное издание (2014) PC
Роман Даны Кнайтстоун. Смерть и предательство в Румынии Коллекционное издание Вас ждут новые приключения Данны Кнайтстоун в пятой части невероятно захватывающей серии игр от Boomzap Entertainment!...
Скачать X3 Reunion (2005)
X3: Reunion (2005) PC Game | Developer: Egosoft | Publisher: Egosoft | 5.4 GB Languages: English, Italian, Spanish, French, German, Polish, Russian, Chinese, Czech Genre: Adventure, Strategy | Release Date: 03 November, 2015...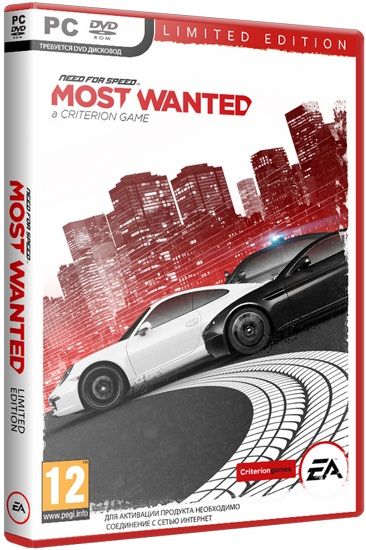 Need For Speed Most Wanted LIMITED EDITION | 1.723 GB
Languages: English Platform: PC Release Date: October 30, 2012 Publisher: Electronic Arts Developer: Criterion Games
Genre: Racing
Combining the thrill of illicit street racing and tuner customization with the intensity of strategic police pursuits that rivals any Hollywood-style chase scene, Need for Speed Most Wanted challenges players to become the most notorious and elusive street racer. Players instantly feel the thrill of the ride as they hit the streets in an open world environment where drivers can tune their cars to compete against any class of vehicles or use their wits to out-fox the law to satisfy their need for speed. Need for Speed Most Wanted delivers a unique, fast-paced and gripping ride in the racing genre as players build up their Rap Sheet and street cred to move their way up the Black List to become the most wanted racer on the streets. Players go head-to-head with the top drivers on the scene as well as strategically evade more than half dozen cops at any one time. Also included are a dynamic open world, new gameplay and customization as well as tuners, supercars, muscles and sports cars.
Features:
Limited Edition Perks – Get double Speed Points for your first four hours of multiplayer and get early access in online multiplayer to two of the world's hottest cars complete with the exclusive Satin Black livery and the latest performance modifications. Beat Your Friends – Autolog 2 ratchets up the intense competition with personalized race recommendations and feeds broadcasting all of your most newsworthy scores, speeds and times to your friends. Earn Need for Speed points at all times on any system as you try to outdrive your friends and become the Most Wanted. Non-Stop Multiplayer – Pick a car, hook up with friends and jump into a non-stop playlist of tight, competitive events. No lobby screens means the action never stops. Score big, rank up and earn endless rewards and upgrades. Keep the fierce rivalries going between events with endless opportunities to race, battle and explore in a huge open world. Open World Action – Lose the cops – your way. Hit jumps and shortcuts, lay low, or shake the cops in surroundings that play to your car's unique strengths. Freedom is everything. Drive anywhere with your friends, discover hidden gameplay or utilize your knowledge of the city to beat them in a never-ending supply of challenges. Racing Without Rules – It?s survival of the fastest as "Need for Speed Most Wanted" fuses the franchise?s, authentic "real car" feel with the intense speed and aggression of Burnout. Power down, slide out, and battle your way past cops and rivals using pure driving skill, and heavy doses of nitrous. INSTALL INFORMATION ------------------- Step-1:UnRAR Yourself Or Use Our Install.exe Step-2:Run ~Unpack~.bat As Administrator To Unpack/Rebuild ( Our Install.exe Does This Step For You ) Step-3:Click NFS13.exe To Play
Screenshot
Download:
http://extabit.com/file/279lkgzl6io0o/Need.for.Speed.Most.Wanted-KaOs.part1.rar http://extabit.com/file/279lkgzl6iek8/Need.for.Speed.Most.Wanted-KaOs.part2.rar http://extabit.com/file/279lkgzl5vr60/Need.for.Speed.Most.Wanted-KaOs.part3.rar http://extabit.com/file/279lkgzcc4p60/Need.for.Speed.Most.Wanted-KaOs.part4.rar
Mirror 1:
http://u21795501.letitbit.net/download/52623.5d46f03b731c26d29fdb4745e076/Need.for.Speed.Most.Wanted-KaOs.part1.rar.html http://u21795501.letitbit.net/download/61666.6dfdfb3ac13a87eb95dea457b72d/Need.for.Speed.Most.Wanted-KaOs.part2.rar.html http://u21795501.letitbit.net/download/77509.76c8ea8db381f9756654513292d5/Need.for.Speed.Most.Wanted-KaOs.part3.rar.html http://u21795501.letitbit.net/download/72501.73d323661254e5dab657143c1a92/Need.for.Speed.Most.Wanted-KaOs.part4.rar.html